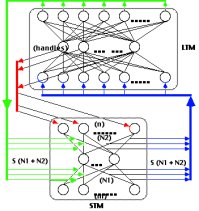 Distributed Ontological Encoding Through Symbol Recirculation.
Costa J.
Master's Thesis
Advisors: Dr. Pablo Duboué, Dr. Francisco Tamarit.
F.A.M.A.F., Universidad Nacional de Córdoba
Argentina, 2003.
The goal was to obtain, through symbol recirculation using neural networks, distributed, "intelligent" representations of the nodes in an ontology that incorporate semantic knowledge about their role in the network. Such ontologies were extracted from WordNet. The expressiveness of the results was extensively tested. The method may be used in the context of automatic word sense disambiguation.